Para hablar de nuestros planes en el futuro podemos usar
(be) going to + infinitivo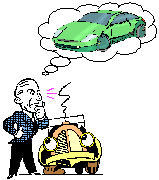 + I'm going to buy a new car next year.
Voy a comprarme un nuevo coche el año próximo.

- He isn't going to get married
No va a casarse.

? Are you going to have a party?

Yes, I am / No, I'm not
¿Vas a hacer una fiesta?.

Pon las siguientes expresiones de tiempo en orden cronológico.
| | | |
| --- | --- | --- |
| a) tomorrow morning | b) this afternoon | c) in the year 2009 |
| d) tonight | e) in the year 2006 | f) next year |
| g) next month | h) next Tuesday | i) tomorrow night |
| | | | | | | | | |
| --- | --- | --- | --- | --- | --- | --- | --- | --- |
| | .. | -> | .. | | .. | -> | .. | |
| b) this afternoon | | | | | | | | c) in the year 2009 |
La Mansión del Inglés. https://www.mansioningles.com
© Copyright La Mansión del Inglés C.B. - Todos los Derechos Reservados . -