Los adverbios de frecuencia
never occasionally sometimes often usually always
0%

100%
Los adverbios de frecuencia se colocan normalmente delante de un verbo principal.
- I never get up before eight o'clock. (y no I get up never...)
- Adverbs of frecuency usually go before the main verb (y no go usually before...)
- Rubén sometimes speaks English. (y no Rubén speaks sometimes...)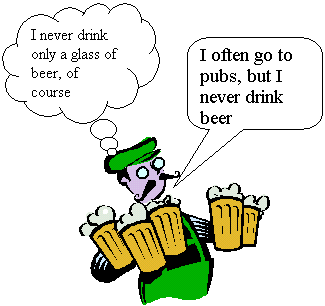 Si hay un verbo auxiliar, se colocan normalmente después del verbo auxiliar y antes del principal.
- I don't often play football. (y no I don't play often football)
- He doesn't usually work on Saturdays. (y no He doesn't work usually on Saturdays)
Sin embargo, 'sometimes', 'usually' y 'occasionally' se pueden poner al principio y al final de la frase.
- Sometimes we go to restaurants. - We go to restaurants sometimes.
- I usually drink tea. Usually I drink tea. I drink tea usually.
Normalmente no se pone 'never' ni 'always' en estas posiciones.
- Never we have dinner at seven o'clock. We have dinner at seven o'clock never.
- Always I go swimming on Fridays. I go swimming on Fridays always.
Si siempre pones el adverbio justo delante del verbo principal, no te equivocarás

Cambia el orden de las palabras en las siguiente frases al orden correcto siguiendo el ejemplo.
| | | |
| --- | --- | --- |
| car sometimes go by We | | We sometimes go by car. (Sometimes we go by car. / We go by car sometimes) |
1. in We sometimes August Barcelona to go
2. eat I hamburgers never
3. mother She her kisses always
4. cinema They Fridays go the usually on to
5. a dinner He has restaurant in occasionally
6. phone I chat brother on often my with the

Tu Diccionario debe servirte siempre de apoyo. Utilízalo para conocer el significado de las palabras que desconozcas, pero también revisa los ejemplos del uso de cada término que suelen incluirse así como las distintas acepciones del mismo.

Un truco para situar mejor el significado y el contexto de una palabra cuando te queden dudas es buscar también el término en español y ver la correspondencia en inglés del mismo.

No olvides la trascripción fonética. Recuerda que la forma escrita de las palabras en inglés no suele corresponderse con la pronunciación de las mismas.

La Mansión del Inglés. https://www.mansioningles.com
© Copyright La Mansión del Inglés C.B. - Todos los Derechos Reservados . -