Now read and listen to part four.
Ahora lee y escucha la parte final.
Part Four



It was 11.30 pm and Rick was in the same bar in Greenwich Village. There were more people, and it was busier and noisier than before.

Rick drank his beer slowly. He saw the big man, but Brad wasn't there. Rick saw the door open, and Brad came in nervously. He sat next to Rick.

Suddenly the music stopped. A short fat man, with glasses and wearing a suit, spoke into a microphone.



'Ladies and gentleman, it's wonderful to see you all here tonight. Now I'd like to introduce the fantastic, the incredible, the most beautiful singer in Manhattan, Simone!'

The bar became dark when Simone started to sing, but Rick saw the big man walk to the bar. He spoke to Brad and laughed. Brad moved quickly and took out the pistol. Rick was behind him, but Rick moved too slowly.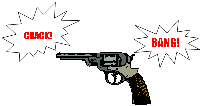 The music stopped. Simone screamed.



When the police arrived Simone was different. She didn't have long brown hair, she had short blond hair. She wasn't Simone the singer, he was Simon the taxi driver from Queens. The police took Brad, Simon's brother, to the police station. The big tall man was dead on the floor and Simone was next to him, crying continuously.
the same = mismo/igual
blond(e)= rubio
before = antes
short = bajo/chaparro
next to = al lado de
dead = muerto

dark = oscuro
behind = detrás de
too slowly = demasiado despacio
scream = gritar
floor = suelo
to cry = llorar
La Mansión del Inglés. https://www.mansioningles.com
© Copyright La Mansión del Inglés C.B. - Todos los Derechos Reservados . -