Put the following words in the correct order to make a question. Pon las palabras en el orden correcto para hacer una pregunta.
1. person the who famous is
?
2. old he how is
?
3. is she old how
?
4. is tall he how
?
5. she how tall is
?

Listen and Check


Comprueba tus respuestas con el sonido y repite las preguntas

Choose the correct answer to questions 1, 2 and 4 for these two famous people.
Elige la respuesta correcta para las preguntas 1, 2 y 4 respecto a éstas dos personas famosas.
Who is the famous person?
How old is he?
How tall is he?
Help
taller than = más alto que...
older than = más viejo que...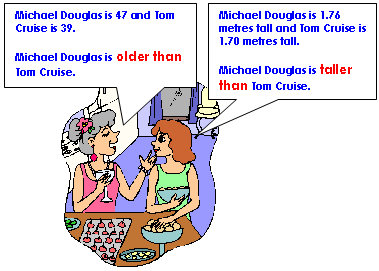 La Mansión del Inglés. https://www.mansioningles.com
© Copyright La Mansión del Inglés C.B. - Todos los Derechos Reservados . -