MAN SELLS ADVERTISING SPACE ON NECK
Mark Hutson, A 32-year-old man from Hainault, Essex,
(auction)
the back of his neck as advertising space. The winning company will be able to put a permanent tattoo advertisement on the back of Mark's neck.
Mark
(work)
as an electrical sub-contractor and
(run)
crazy auctions and selling unusual products on the popular internet site eBay since 2003. He says this is the first time he has thought of selling advertising space on his body. Last year Mark
(make)
$7,000 on eBay and he
(hope)
to make internet auctions his full-time job.
His wife Sarah is totally supportive of his idea. "I think
(be)
quite sexy when it's done" she said "especially if Mark
(get)
a lot of money from it." When asked if it matters that the company name will be on his skin for life, Sarah replied "Only if it's something silly like a sausage company or a brand of condom. Anyway, after a few months I'm sure we
(get used to)
it"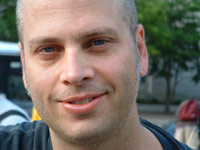 Companies have another 19 days to bid for the ad space, after which Mark
(announce)
the winner. "We
(already/have)
a lot of interesting offers since we opened the bidding." said Mark. How much is the current price? "I
(not/say)
at the moment" replied Mark. "If people are interested, they'll have to go online to find out, but I'm hoping that the price
(double)
by the time the offer closes in 19 days.
The first offer came from a local Kebab shop. "As soon as we heard that Mark
(offer)
ad space we wanted part of the action." said owner Rajid Khan. "Just imagine the exposure our kebabs will receive when Mark goes to a football match and drinks in the pub at weekends." he said.
Mark Hutson's auction can
(find)
on the world famous auction site eBay his user ID is madmarkhuttie and you can also search for this auction by the auction ID which is 5657013788.
On the web site, Mark
(state)
that a local radio station, Sounds FM,
(do)
a live interview with him two days before the auction closes. During that interview he will tell the listeners who the highest bidder is and the name of the company.