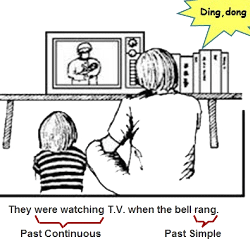 Past Simple vs Past Continuous
- The most common use of the past continuous is to talk about something that was happening around a particular time in the past.
- We often use the past continuous and the past simple together. When this happens, the past continuous describes a longer background action or situation and the past simple describes the action or events.
- Often the action described by the past simple interrupts the situation described by the past continuous.
"They were watching TV when the bell rang"