What do you do?
literalmente ¿Qué haces / qué es lo que hace? se interpreta como ¿cuál es tu/su profesión?
(What's your job?)
.
- En Inglés existen varias palabras para referirse al trabajo / profesión: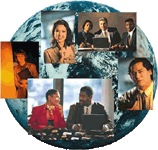 Work / Job
. Se diferencian en que
work
es incontable y
job
es contable:
I've found work/a new job at the university. He encontrado un trabajo en la universidad.
¡Cuidado!: Work=trabajo; works=obras, fábrica, taller.

Employment
(más formal)
se usa para referirse a la condición de los que tienen empleo, aunque se trate de empleos ocasionales, inestables o a tiempo parcial:
Many students are in part-time employment in summer / Muchos estudiantes tienen trabajos a tiempo parcial en verano.

Occupation
se utiliza como término oficial ante la administración (en impresos, formularios, etc.):
Occupation: engineer / Profesión: ingeniero.

Profession
refiere las profesiones que requieren de un título universitario:
The medical profession / la profesión médica.

Trade
se emplea para referirse a los oficios que requieren una formación específica:
He's an electrician by trade. Es electricista de profesión. (Trade union = Sindicato)