Kid's Books You Will Never See

"You Were an Accident."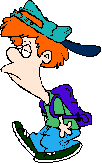 "Strangers Have the Best Candy."
"The Little Sissy Who Snitched."
"Some Kittens Can Fly!"
"How to Dress Sexy for Grownups."
"Getting More Chocolate on Your Face."
"Where Would You Like to Be Buried?"
"Katy Was So Bad Her Mom Stopped Loving Her."
"All Dogs Go to Hell."
"The Kids' Guide to Hitchhiking."
"When Mommy and Daddy Don't Know the Answer They Say God Did It."
"Garfield Gets Feline Leukemia."
"What Is That Dog Doing to That Other Dog?"
"Why Can't Mr. Fork and Ms. Electrical Outlet Be Friends?"
"Bi-Curious George."
"Daddy Drinks Because You Cry."
"Mister Policeman Eats His Service Revolver."
"You Are Different and That's Bad."
Mommy's Way
A man went to the store with his 3-year-old daughter in tow. Since he was just there to grab some essentials like milk and bread, he opted to save some time by not pushing a cart around the store.
"That's not the way Mommy does it," his daughter informed him.
"I know, dear, but Daddy's way is OK, too," he replied.
Leaving the store in the rain and without a cart, he carried the bag of groceries, his daughter, and the milk quickly to the car. Not wanting to set anything down on the wet ground, he set the jug of milk on top of the car, efficiently whisked open the car door with his now free hand, scooted the groceries in and set his daughter into the car seat in one swift motion. Then he hopped in himself.
"That's not the way Mommy does it," his daughter informed him again.
"Honey, there's more than one way to do things," he replied patiently. "Daddy's way is OK, too."
As they pulled out and headed down the street, he became aware of the scraping sound on the roof as the jug of milk slid down the length of the rooftop, bounced off the trunk of the car and splattered to the ground, sending a froth of white milk in every direction.
In the millisecond he took to process his mistake, his young daughter looked at him, and in a most serious voice said, "That's NOT the way Mommy does it."