Two fat blokes in a pub, one says to the other "your round." The other one says "so are you, you fat bastard!"



Two cannibals eating a clown . One says to the other "Does this taste funny to you?"



Police arrested two kids yesterday, one was drinking battery acid, the other was eating fireworks. They charged one and let the other one off.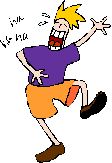 "Cos it's strange, isn't it. You stand in the middle of a library and go 'Aaaaaaagghhhh!' and everyone just stares at you. But you do the same thing on an aeroplane, and everyone joins in.



"And the back of his anorak was leaping up and down, and people were chucking money to him. I said 'Do you earn a living doing that?' He said 'Yes, this is my livelihood.'



"You know, somebody actually complimented me on my driving today. They left a little note on the windscreen, it said 'Parking Fine.' So that was nice."



"So I got home, and the phone was ringing. I picked it up, and said 'Who's speaking please?' And a voice said 'You are.'"



"So I rang up my local swimming baths. I said 'Is that the local swimming baths?' He said 'It depends where you're calling from.'"



"So I rang up a local building firm, I said 'I want a skip outside my house.' He said 'I'm not stopping you.'



"Apparently, 1 in 5 people in the world are Chinese. And there are 5 people in my family, so it must be one of them. It's either my mum or my dad. Or my older brother Colin. Or my younger brother Ho-Cha-Chu. I think it's Colin.



Monica walks into her dry cleaning store and tells the guy, "I've got another dress for you to clean." Slightly hard of hearing, the clerk replies, "Come again?" "No," says Monica. "Mustard."

Two aerials meet on a roof, fall in love get married.
The ceremony was rubbish but the reception was brilliant.



Deja Moo: The feeling that you've heard this bullshit before



I went to the butchers the other day and I bet him 50 quid that he couldn't reach the meat off the top shelf. And he said
"no, the steaks are too high."



My friend drowned in a bowl of muesli. He was pulled in by a strong currant.



Did you hear about the oyster who went to a disco? He pulled a muscle.



Two Eskimos sitting in a kayak were chilly; but when they lit a fire in the craft, it sank, proving once and for all that you can't have your kayak and heat it too.



Our ice cream man was found lying on the floor of his van covered With hundreds and thousands.
Police say that he topped himself.