Currency Exchange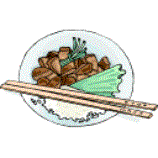 An Asian man walks into the currency exchange with 2000 yen and walks out with $72. Next week he walks in with 2000 yen, but only gets $66. He asks the lady why he gets less money this week than last week.
The lady says, "Fluctuations."
The Asian man says, "Fluc you clazy Amelicans too!"
A chemist, an engineer and an economist
A chemist, an engineer and an economist are stranded on a deserted island. They carry with them some canned food but have no ordinary means of opening the cans. The chemist suggests gathering some wood and starting a fire and then holding the cans over the heat, counting on the expanding contents to burst open the cans. The engineer thinks it would be better to try smashing the cans open with some of the rocks lying around. The economist begins, "Assume we had a can opener..." "
I can't hear you
A young man was having some money problems, and needed $200 to get his car fixed and road-worthy again. But had run out of people to borrow from. So, he calls his parents via the operator, and reverses the charge and says to his dad, "I need to borrow two hundred dollars."
At the other end, his father says, "Sorry, I can't hear you, son, I think there may be a bad line."
The boy shouts, "Two hundred. I need two hundred dollars!"
"Sorry, I still can't hear you clearly," says his father.
The operator cuts in, "Sorry to butt in, but I can hear him perfectly."
The father says, "Oh, good. YOU send him the money!"
Saving money
My mother decided to trim her household budget wherever possible, so instead of having a dress dry-cleaned she washed it by hand. Proud of her savings, she boasted to my father, "Just think, Fred, we are five dollars richer because I washed this dress by hand." "Good", my dad quickly replied. "Wash it again!"
La Mansión del Inglés. http://www.mansioningles.com
© Copyright La Mansión del Inglés C.B. - Todos los Derechos Reservados . -