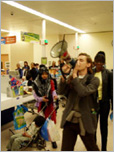 Listen to a security announcement and decide where you might expect to hear it.


a) at a football match
b) in a cinema or theatre
c) in an airport



Comprueba

Listen again and complete the following transcription. Use the 'pause' button on your media player to give you time to write.


For security , please keep your and all with you at all until they are checked. baggage will be immediately for and may be or .

For security , do not packages or that do not to you.






Now check with the complete transcription


Listen to the conversation again and read the complete transcription.

La Mansión del Inglés. http://www.mansioningles.com
© Copyright La Mansión del Inglés C.B. - Todos los Derechos Reservados . -