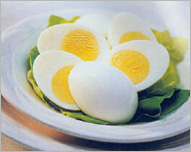 You are going to listen to a short radio interview about eggs.
Before you listen, read the following questions.

1. Approximately when was it proved that eggs are good for your health?.
a)In the late 1990's.
b)In the 1980's.
c)In the early 1990's.

2. Scientists also say that eggs.
a)raise your serum cholesterol.
b)do not raise your serum cholesterol.
c)do not improve your sex life.

3. Mr. Adams has.
a)less orders for eggs than before.
b)more orders than before.
c)the same amount of orders as before.

Comprueba

Listen again and complete the following transcription. Use the 'pause' button on your media player to give you time to write.

Mr. Adams, tell us a little bit about the egg business, if you will..erm..just about everybody eats eggs at one time or . Are more people eating eggs nowadays? And what's the of eggs been doing?

Okay, the..as to eating eggs, back in the 80's and early 90's we got a bum wrap..er..saying that eggs are..had..er.. high cholesterol content, salmonella was an , and beginning in the late 90's all the scientific proved that eggs were good for you, and that they did not raise your serum cholesterol. And as we have gone in the past twelve , particular the Atkins diet has kicked in, and now they're even labelling..er.. eggs as a…as a..a..what are they calling it? They're calling it a functional food. They say it helps , it helps your , it helps your …..and we can just hardly..we can just hardly keep up with orders…

Eggs are better than scotches!…we gotta go. That was..I just though I'd put that in…

Mr. Adams, thank you so much.

Check with the complete transcription.
La Mansión del Inglés. http://www.mansioningles.com
© Copyright La Mansión del Inglés C.B. - Todos los Derechos Reservados . -