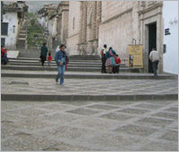 Before you listen to Kevin speaking about Peru, read the following true or false questions.

1. Kevin was in Peru for over four years.
2. He went to Peru in 1995.
3. Kevin went to Peru to teach children.
4. He still has contact with people he met in Peru.
5. Kevin thinks it would be easy to be a vegetarian in Peru.

Comprueba

Listen again and write the answers to the following questions.


1. Did Kevin go to Peru in the summer, autumn, winter or spring?



2. Which part of the Andes is Cajamarca in?



3. Which four adjectives does Kevin use to describe Peruvian people?



4. How does Kevin keep in contact with his friends in Peru?



5. Is estufada de cabrito from the coast or from the mountains of Peru?



Comprueba

Read the transcription and find the English translations for the following words and expressions. Follow the example.
Example:
anunciado - advertised
1. crear, establecer - (phrasal verb)
2. acabar - (phrasal verb)
3. mineros de oro -
4. crudo -
5. remojar -
6. cabra -
7. picante -


Transcription.

Listen again and read the transcription.

Comprueba
La Mansión del Inglés. http://www.mansioningles.com
© Copyright La Mansión del Inglés C.B. - Todos los Derechos Reservados . -