BROADCASTING LIVE WITH LYNNE AND CRAIG

There's no place like home!

Vocab
to fly the nest / empty nester
to leave home / to still live at home
flatmate / roommate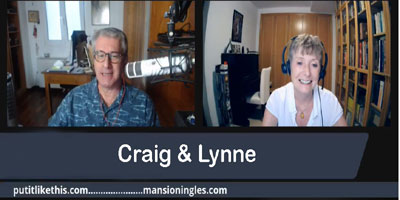 landlord / landlady / tenant
to live from hand to mouth
to be homeless
to downsize

Verb tenses
I'm living (temporary) - I live (more permanent)
I've lived (in my life)
I lived (In the past and often with a time reference)
I used to live (in the past, but not now)

What are the advantages and disadvantages of these life choices?
Living at home with your parents
flat share
Living with a partner as a couple - living alone
Lodger
Hall of residence
Boarding school / dorm (dormitory)
on the road (out-of-a-suitcase)
Commune (communal living)
Retirement homes / villages / assisted living

Discussion
Is it better living alone / with family / with friends?
What age should you leave home?
What makes a house (or the place you live) a home?
What's the worst place you've ever lived in?
What would your ideal home be like?
Do you think standard of living is more important than quality of life?