BROADCASTING LIVE WITH MÓNICA AND CRAIG

Vocabulary and Recipes in English.

In this video from Facebook Live, Monica Stocker from El Blog Para Aprender Ingles and Craig from La Mansión del Inglés you'll learn how to give recipe instructions in English and some useful verbs that are often found in recipes.
Recipes have an attractive title, the ingredients and the method or the instructions.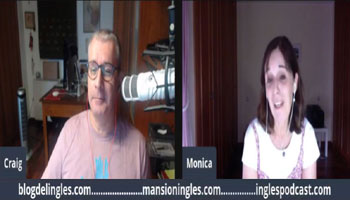 The instructions are often in the imperative form of the verb. Here are some examples:
1) Add – some salt
2) Slice – the meat, tomatoes
3) Chop – the vegetables (cube)
4) Mince – meat (grind coffee)
5) Knead - bread
6) Sift - flour
7) Drain – off the water/vegetables
8) Soak – salty fish
9) Bake – in oven (bread, fish, potaotes)
10) Cook
11) Fry - fish
12) Grate – cheese

Some cooking tools mentioned are: spatula, whisk, cutlery, serving spoon.
Craig can only cook one thing, Shepherd's Pie.
Mónica made falafel with chickpeas, garlic and spices.