BROADCASTING LIVE WITH MÓNICA AND CRAIG

How to have a successful online job interview in English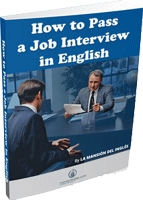 In this second Facebook live with Monica Stocker from from El Blog Para Aprender Ingles and Craig from La Mansión del Inglés we help you with having job interviews online in English.

We answer questions like What do you do if your level is not good enough? How can you prepare your CV? What questions should you ask the interviewer? How can you speak about salary? Should you memorize set phrases in advance? and many similar questions concerning Job interviews.

One negative effect of the current pandemic is the steep rise in unemployment. As a result, many people are applying for new job positions or even changing careers. It is more important than ever to come across well in English and give an effective job interview.

If you are preparing for an interview in English at the moment, we have an audio book that will give you the tools and the confidence to effectively conduct an online interview. You can find more details here.

Consejos para preparar una entrevista de trabajo en inglés.