BROADCASTING LIVE WITH LYNNE AND CRAIG

Pets
Are you an animal lover? Do you own pets? Should we own animals?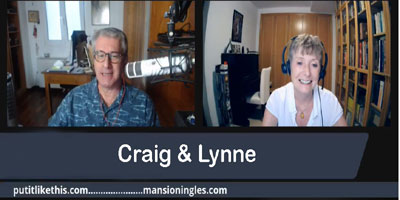 Different types of pets:
What kinds of pets do you have / know?
Vocabulary
Ones that live in your house:
Dogs
kennels, lead/leash, collar, breed, Obedience training, to pat a dog, bark
Cats:
litter tray, let the cat out, to stroke a cat, whiskers, lick their fur, furball, miaow, purr
Ones that live in goldfish bowls or aquariums:
goldfish, tropical fish
Ones that live in cages
parrots, canaries, skunks, ferrets, rabbits, hamsters, mice, gerbils
Ones that live in vivariums:
reptiles, iguanas, snakes
Animal shelter, to adopt a pet, to keep a bird in a cage, to take a pet to the vet
Discussion:
Why do we have pets? (To keep you company, to teach kids how to care for something, fascination with nature, work (eg. shepherds), to enhance your image?)
Some people say its also pressure from media – Pets have become accessories. Do you agree?
What are the disadvantages of having pets? (Expense, They have short life cycles, You have to often decide when they die, holidays, being tied down)
What about the pets themselves? Is it Good for them? ( cramped living spaces, quality of their lives, not being free) the environment
Do you think it's unfair to keep animals in the home – shouldn't they be in their natural habitat?
What do you think of people who have exotic pets?
Is it still a good idea to have pets in the 21st century? Or is the idea something that is no longer morally acceptable?
Do you agree with animal testing?
Would you wear a fur coat?
TAMBIÉN TE PUEDE INTERESAR: