BROADCASTING LIVE WITH LYNNE AND CRAIG

Ways to talk about the future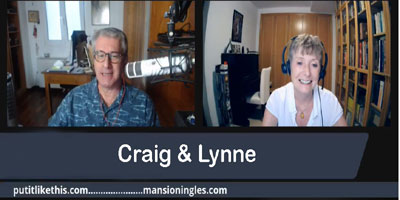 Will (for predictions) (Be careful of pron - often you might not hear the 'll) eg. Cinderella - you will go to the ball!

Future perfect (for a fixed time in the future) (Be careful of pron - often you might not hear the 'll 'ev) eg. By 9:15 tonight we'll have finished the live stream

Going to be (for predictions with evidence) (Be careful of pron - gonna be) eg. That work was brilliant! He's going to go far!

Present continuous for future plans and arrangements. "I'm seeing my friend tomorrow.!

bound to = certain: eg.They are bound to succeed!

likely to = probable: eg.We're likely to win the contract. (notice pron - contraction and stress likely)

definite = sure: eg. He's a definite frontrunner for the job! (notice pron - contraction and stress definite)

Modal verbs: may / might / could eg. They may/might/could win the next election

probably won't: eg.They probably won't hear until next week.
definitely won't: eg. I definitely won't go to the party.

highly likely / unlikely

Discussion
So, how do you see the world in 10 years' time?

Transport
I think we'll have flying cars before the end of the decade.
Self-driving cars are going to be commonplace.
Are we likely to shift completely from petrol and diesel-driven cars to electric?

Health
Free health care is likely to collapse in many countries.

Work
Retirement age may be increased.
Automation will take over more jobs. Some jobs will disappear completely (taxi drivers, cashiers, admin staff, travel agents). We'll definitely need to adapt and conform to advances in technology.
Working hours and places will become more flexible

Housing
Fewer house will be available to rent and urban housing will become even more expensive.
Minimalism and small houses are likely to become more popular.
More people are bound to move outside cities where the air is cleaner and house prices are cheaper.

Technology (The Metaverse)
AI will gradually take over more areas of our lives and people will become more insulated and isolated in society.
I think more wars are likely to break out as the West scrambles to get their hands on the materials that make microchips.
TAMBIÉN TE PUEDE INTERESAR: