BROADCASTING LIVE WITH LYNNE AND CRAIG

Football Crazy!
Are you already fed-up with the World Cup? This week we will look at all the vocab surrounding football and talk about the impact football has on those who love it and those who hate it.
to be fed up with something – to be bored, annoyed, or disappointed, especially by something that you have experienced for too long (job)
Do you like football? Are you a lover or a hater?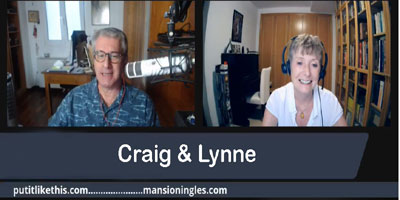 Have you ever been to a real game? Do you watch it on TV? Where? At home or in bars?

Vocabulary
spectators and audience
Team /side – Whose side are you on? Who do you want to win? Opponents
kick-off ,tackle, foul, injury, referee, linesman/men, goal, goalpost, bar, penalty area, free-kick, penalty kicks, extra time, injury time
Football fan / supporter - to support a side - Are you a fan of…? Adjectives: loyal, fanatic, obsessed, fair-weather
Football hooligan / Hooliganism / crowd / crowd control
Be in a league / league games / be promoted / be relegated / first round / to be knocked out to be in/ reach the quarter / semi / final. To be drawn against / which group are they in? / tournament / championship

Further discussion
Some people say football brings people together. Is this true?
Is there too much money involved in the sport nowadays?
Does football bring out the best in people? In the players? In the supporters?
What do you think about having the World Cup in Qatar?
TAMBIÉN TE PUEDE INTERESAR: