BROADCASTING LIVE WITH LYNNE AND CRAIG

Tips, Tricks and Language for Online Video Interviews
Do you use video conference software like Skype or Zoom for work? Maybe you have video interviews with a webcam. In this stream, Lynne and Craig will help you improve your video quality - and your English!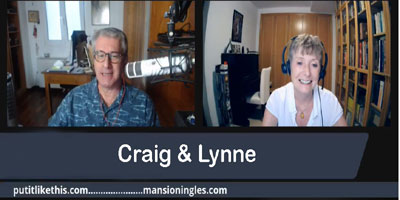 Introduction
Online interviews/meetings are becoming more popular.
Have you had any? What's your experience of them? Do they make you more or less nervous?

General Vocabulary for Navigation:

(Screen description) Top-right, bottom-left(hand corner), Toolbar, hover your mouse, click on, scroll up/down, icon, buttons, arrow, go to/open (settings), pop-up menu, pop-up message,

Tips for Video
• Lighting - where should it be?
• Background - make sure it's appropriate
• Picture width - position of your head and shoulders
• Choice of colours and backgrounds
• Keep eye contact with your interlocutor
• Never look at yourself and adjust your appearance while on camera. Check your feed before you go live..

Tips for Sound
• Choose a good mic
• Check for echos - use earphones
• Close windows and doors
• Don't wear earrings or jangling jewellery - beware of mic rubbing on clothes, hair.
• Stay still
• Move your mic away or mute it if you need to cough or sneeze
• Put your phone on silent. Turn off sound notifications on PC. Put the dog/cat in another room!

Trouble-shooting language
• I'm sorry but your picture is blurred
• Can you tilt your camera? I can't see all of your face
• Your image has frozen
• The picture has come back up now.
• Can you restart your video feed?
• Please turn on/off your video feed?
• Can you go out of the session then come in again?
• Can you share your screen?
• Can you see my screen?
• Can you open the chat file?
• Can you mute/un-mute your microphone?
• Just to check - is the sound OK?
• I'm sorry but your sound is very loud/low. Can you put the mic closer to your mouth?
• You're breaking up. Can you say that again?
• Sorry I didn't catch that. I can't hear you very well.
• The sound is distorted.
• Can you hear me OK?
• Where was I? What was I saying? As I was saying before we were interrupted….

More advice

• Always have the chat file open
• Think about dress - make sure you are fully dressed in case you have to get up.
• Think about background
• Think about where you might have any cheat sheets and make them visible so you don't rustle
• If you are disturbed apologise and turn off your mike to deal with the disturbance
• Never multi-task and do something else while you're in the interview.
• If possible have a mobile number on hand in case you have to trouble-shoot by phone.
• Try to practise with a friend.
• Wired internet connection always better and more stable than WiFi
• If bandwidth is low, turn off video and have audio only
• Close other apps that might take away bandwidth from the call
• Reboot your PC the day before an important call.
TAMBIÉN TE PUEDE INTERESAR: