BROADCASTING LIVE WITH LYNNE AND CRAIG

Holidays and back to work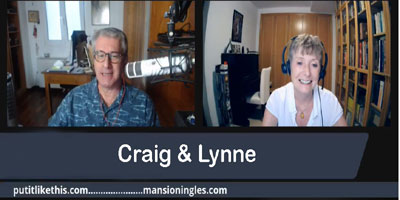 Getting back and starting work/studies again
Good or bad experience? Have your batteries been recharged or are you just depressed?
Any tips to make the back to work more bearable?
How long does it usually take you to get back into the flow?

Types of holiday (vacation)
Package holidays/all-inclusive/full-board/half-board/self-catering/abroad/guided tours/family holidays/single holidays/romantic getaways/adventure holidays/ walking or cycling holidays/camping holidays/ luxury holidays/resorts/hotels/backpacking/beach holidays/

Discussion:
Do you like holidays to relax? to discover? To push your boundaries?
Do you prefer familiar or new destinations?
How many holidays do you need /would you like every year? Long or short?
Who do you like to holiday with? Friends/family/strangers/solo?
What was your best / worst holiday? (best memory from any holiday?)
What would your dream holiday be like?
Is there anywhere you would definitely not go/ anything you would not like to do?
TAMBIÉN TE PUEDE INTERESAR: