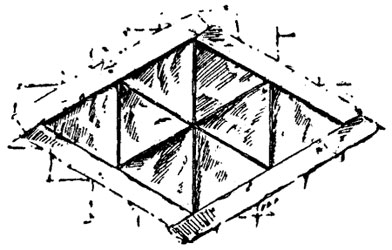 In this case Sir Hugh had greatly perplexed his chief builder by demanding that he should make a window measuring one foot on every side and divided by bars into eight lights, having all their sides equal. The illustration will show how this was to be done. It will be seen that if each side of the window measures one foot, then each of the eight triangular lights is six inches on every side.

"Of a truth, master builder," said De Fortibus slyly to the architect, "I did not tell thee that the window must be square, as it is most certain it never could be."
*Si ignoras el significado de alguna palabra, utiliza el diccionario online.