Ejercicios
- ¿Cuál es su profesión?
Completa cada una de las distintas profesiones, siguiendo el ejemplo:
She is a nurse
- engineer
- miner
- dentist
- teacher
- detective
- astronaut




- Utilizar a / an donde sea necesario: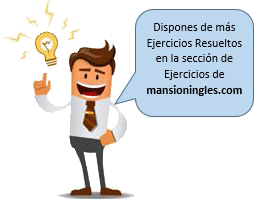 1. My sister is nurse.
2. He is policeman and his wife is engineer.
3. She is good musician.
4. What expensive car!
5. travel agent would give you information about reservations.
6. It is pleasure to do it.
7. He drinks wine three times day.
8. He broke arm in skiing accident.
9. hour.
10. I'll pay you thousand month.
La Mansión del Inglés. https://www.mansioningles.com
© Copyright La Mansión del Inglés C.B. - Todos los Derechos Reservados . -