I have never had a problem with
(1)
(lose)
of appetite. I can eat almost anything, even the over-cooked
(2)
(taste)
food that's served up to me when I go to visit my mum and dad.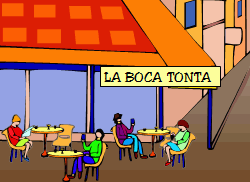 I try to eat
(3)
(health)
, but basically I'll eat whatever is put on my plate.
Until, that is, I went to a restaurant in Valencia called "La Boca Tonta". As soon as my wife and I entered the place, I suspected we had made a mistake, as we were the only
(4)
(dine)
.
The first dish looked delicious, but the taste was totally different from its
(5)
(appear)
. It was bloody disgusting! I managed a couple of mouthfuls then gave up.
The main course was equally
(6)
(deceive)
, with succulent-looking lamb chops that turned out to be inedible. The dessert looked
(7)
(promise)
and smelt good, but by this time I
(8)
(trust)
everything that was put in front of me in this place. Nevertheless, it was
(9)
(pass)
and I ate it thankfully. It cost me 80 Euros for a bread roll and a small piece of
(10)
(freeze)
gateaux. Apparently, it isn't the 'boca' that's 'tonta', it's me!