1. Are you feeling ok? I know you've been working really hard lately and you look a bit .
2. I fell over playing football last week and felt a sharp in my knee.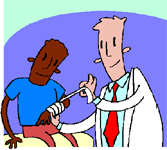 3. My girlfriend is red and green peppers.
4. The World Formula One Grand Prix champion was in a crash yesterday.
5. It has been scientific proven that smoking your health.
6. When I bend down and stand up quickly, the blood rushes to my head and I feel .
7. I cut myself with broken glass and I had to have .
8. Please let's sit down for a while and have a rest. We've been walking for hours and I've got on my feet.
9. The neighbour's little boy fell out of a tree and was taken to hospital with a shoulder.
10. I think I'm allergic to this new washing powder. I've got all over my body.