Test your telephone skills by choosing the best answer to the following questions.
1. Another way of saying "just a minute, I'll connect you" is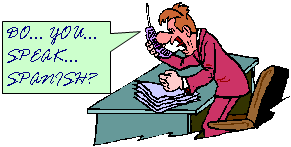 a) "Hold me and I'll put you up."
b) "Hold the line and I'll put you through."
c) "Hold it up and I'll get back to you."

2. If the person you want to speak to is "tied up" it means

a) He or she is free and able to speak to you.
b) He or she is interested in bondage.
c) He or she is busy at that moment.

3. The most suitable answer to the question "Would Monday or Tuesday suit you best?" is

a) "I don't have a good suit."
b) "I don't mind."
c) "I don't care."

4. If somebody tells you that you are "very faint" it means

a) They can't hear you very well.
b) They think you are attractive.
c) They like your honesty and directness.

5. Which of the following expressions is not usually used when you want someone to repeat something?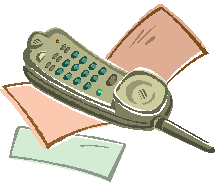 a) "I'm sorry?"
b) "Repeat, please"
c) "I beg your pardon?"
d) "Excuse me?"

6. If you want someone to wait you could say

a) "Just a minute, please."
b) "Just wait, OK?"
c) "Hold me a second."

7. When a caller asks to speak to someone in your office, you should say

a) "Who are you, please?"
b) "What name it is?"
c) "Who's calling, please?"

8. If somebody promises to "get back to you" it means

a) They will phone again later.
b) They will send back the same thing that you sent to them.
c) They will ignore you if they see you in public.

9. A polite reply to the question "Are you free for lunch on Friday?" is

a) "No, I'm not."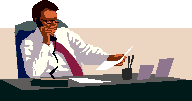 b) "I'm afraid not."
c) "No, I'm tying someone up."

10. If someone asks you to "read something back to them", it probably means that

a) They like your accent.
b) They want to check that you have the correct information.
c) They want to see if you can read.

Listen to 10 short telephone conversations to check your answers.


Read the transcriptions.

Divide the following text into twelve things that someone might phone and ask you to do. Follow the example.
emailmedetailsofmytripgettheaccountsmanageronthephoneformesendmeacopy
ofthereportgetbacktomebeforelunchwriteanemailaskingforarefundorganiseatour
oftheplanttakeaquicklookattheproposalarrangeforsomeonetomeetthematthe
airportsetupameetingwiththesalesteamsendthemacopyofourpricelistand
cataloguebooktheconferenceroomfornextweekmakeadinnerreservationfor
fivefaxmelastmonthsfigures
Example:

1.
2.
3.
4.
5.
6.
7.
8.
9.
10.
11.
12.


Listen to the requests and check.


Listen again and repeat the requests. Try to copy the speakers intonation.