PAST por delante de, más allá de
Puede indicar lugar, tiempo o circunstancia
She walked past the bank / Pasó por delante del banco
It's ten past five / Son las cinco y diez
ROUND alrededor de
Puede indicar lugar, tiempo o circunstancia
We were sitting round (around) the table / Estábamos sentados alrededor de la mesa
Round (about) five o'clock / Alrededor de las cinco
SINCE desde
Indica un período de tiempo cuyo comienzo está bien determinado:
I have not seen him since January / No le he visto desde enero
THROUGH a través de
Puede indicar lugar, tiempo o circunstancia
He made his way through the traffic / Se hizo paso a través del tráfico
We bought it through an agent / Lo compramos a través de un agente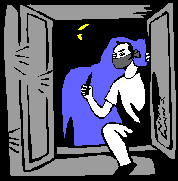 Through the window

A través de la ventana
TILL (UNTIL) hasta
Indica tiempo
I shall be here until tomorrow / Estaré aquí hasta mañana
I shall be here till tomorrow
(*) Diferencia entre 'till' y 'until': 'till' es más informal y no suele aparecer al comienzo de una frase

TO a, hacia, hasta (tiempo)

Puede indicar lugar, tiempo o circunstancia. Se usa para expresar:

a.) Movimiento hacia un lugar:

Let's go to the cinema! / ¡Vámonos al cine!

Se omite normalmente delante de la palabra home (casa, en el sentido de hogar propio):

She came home at eight / Ella llegó a casa a las ocho

A excepción de cuando va precedida de un adjetivo posesivo o si se usa con un genitivo sajón, en cuyo caso es obligatoria:

We went to Peter's home / Fuimos a casa de Peter
We went to his home / Fuimos a su casa

b.) El complemento indirecto

He gave it to John / Se lo dió a John

c.) Comparación

I prefer walking to driving / Prefiero caminar a conducir

d.) Proporción, relación

One goal to nil / Un gol a cero

e.) Tiempo:

A quarter to eight / Las ocho menos cuarto

(*) To se emplea también para formar el infinitivo de los verbos
TOWARDS hacia
Puede indicar lugar, tiempo o circunstancia.
She went towards the door / Fue hacia la puerta
Towards the end of the film / Hacia el final de la película
UNDER debajo de, bajo
Puede indicar lugar o circunstancia
Under the chair / Debajo de la silla
Children under six / Menores de seis años
UP en lo alto de
Indica lugar o movimiento hacia arriba. Tiene el significado contrario a la preposición 'down'
Up the mountain / En lo alto de la montaña
She went up the ladder / Subió por la escalera
WITH con
Indica circunstancia. Se usa para expresar
a.) El complemento de compañía:
With you / Contigo
b.) El complemento de medio o instrumento:
Cut it with a knife / Córtalo con un cuchillo
c.) A causa de
To tremble with fear / Temblar de miedo
A girl with blond hair / Una chica rubia

*También te puede interesar:
La Mansión del Inglés. https://www.mansioningles.com
© Copyright La Mansión del Inglés C.B. - Todos los Derechos Reservados . -