1. What kind of fish did Innes want to catch?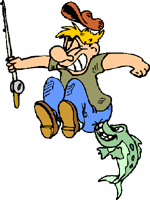 2. What time did Innes and his wife leave to go on the fishing trip?
3. What was Innes' wife doing while Innes was fishing?
4. Did Innes catch any fish?
5. Why didn't Innes want to put his fishing tackle down?
6. What did Innes' wife first think had happened to him?
7. As Innes tells his story, what verb does he sometimes use to report speech apart from the verb to say?