Positive Agreement
If you agree with someone about an opinion, you can simply say I agree or you're right.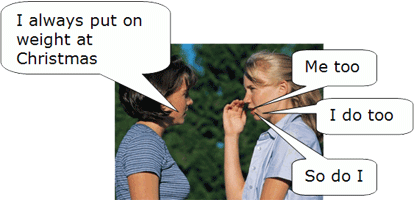 - I think we should leave now.
- I agree / you're right

The words so and too are often used in expressions of positive agreement.
Too usually comes at the end of the sentence, and so at the beginning.

- I'm feeling tired.
- So am I / I am too / me too
For negative agreement, use neither in place of so, and either in place of too.

- I'm not going out tonight
- neither am I / I'm not either

- I don't have enough money to go out
- neither do I / I don't either

- They're Spanish
- so are we / we are too

- My sister doesn't like paella.
- Neither does my husband. / My husband doesn't either.

Disagreeing

When you want to disagree with someone, you can say I disagree or I don't think so

- I think we should increase our prices by 7%.
- I disagree / I don't think so