- Terry: Hello?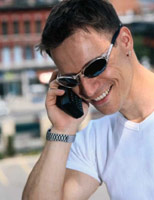 - Pete: Hi Terry, it's Pete.
- Terry: Alright Pete? How's it going?
- Pete: Fine thanks, yourself?
- Terry: Not too bad. What's up?
- Pete: Listen, I'm phoning because dad to the football in Barcelona next week. Arsenal are playing Barcelona in the Champions League.
- Terry: Yeah, I know. I want to go, but Sandra and I a dinner party the night before, on Friday. It early, .
- Pete: The train to Barcelona at 9.00, I've just phoned the station. Do you think Sandra if you leave her to do the tidying up and washing up after the party?
- Terry: I doubt it. Not if I tell her it's something really important!
- Pete: What could be more important than the Champions League?
- Terry: Right! So who do you think
- Pete: Barça . Not with the injury problems they've been having lately. I'm definitely putting my money on Arsenal.
- Terry: You might be right. Hey! Do you want me to pick you up and take you to the station? to the station and I can park the car there. It'll be easier with dad. You know he can't walk very far these days.
- Pete: That would be great, Terry. Thanks very much.
- Terry: No problem. Let me think.. er.. we need to be at the station at quarter to nine, so at quarter past eight. We'd better leave a bit earlier in case the be bad. Is that okay?
- Pete: Fantastic! ?/I look forward/I'll look forward to it. See you on Saturday then.
- Terry: Ok mate. Take care.