1. He must be late. It's nearly 7 and he hasn't arrived yet.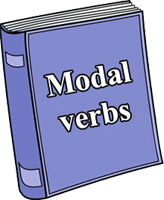 2. I might go away for the weekend. I really need a break.
3. You mustn't drive on the right in Japan.
4. She could be in her office.
5. I must get some milk on the way home.
6. He can't be earning more than you.
7. I could play the piano by the time I was 8.
8. Let's stay home. I think it may rain tomorrow.
9. That will be Simon at the door. He said he'd drop in for coffee.
10. Hello. May I speak to the sales department?
11. Will you help me move some furniture on Saturday?
12. If you still feel bad tomorrow, you should go to the doctor.
13. I'll phone the bank. It's 8.30, so there should be someone there by now.
14. The neighbours have bought a new Porsche. They must have won the lottery.
15. I should have bought a flat when the prices were lower.